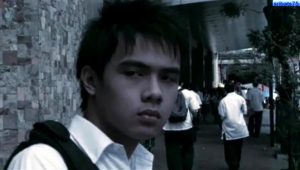 Pantasya 2007
1h 30min | Drama | 20 March 2007 (Philippines)
Storyline:
A digital feature has five episodes that all deal with wild gay fantasies involving men in uniform. It starts with "Biyahe," about a jilted taxi driver and his jealous passenger who find comfort in each other's lovesick arms. The second episode is "Linya," about a lonely homeowner whose phone conks out. Two handsome repairmen arrive and they end up engaging in a dizzying threesome. Next is "Laro," about four basketball players who are taking a shower in the locker room after an intense game, and a shy guy who takes a peek at them and later joins in the fun. "Bilis" is about a hunky delivery boy in a hurry who delivers pizza to a bored yuppie who is working overtime in his office. They get instantly attracted upon seeing each other. The last episode is "Bantay," about a horny security guard in the graveyard shift. He sees two lovers fighting. Rhyme dumps Jon and Jon finds solace in the arms of the easy going guard.
User review:
The plot summary for this film on this site is actually quite misleading. The film isn't about men in uniforms at all. It was probably the film's international distributors who insisted on a more sell-able title in English. 'Pantasya' is about loneliness, desire to belong and the daydreaming that comes as a result.
The film consists of five monologues presented by five lonely guys in their 20's. Each one of them has a situation-based fantasy. Most of them involve their own jobs (taxi-driver, pizza delivery boy, guard). And it's hardly so that they are dreaming about having sex with themselves. Another one longs to become part of a basketball team or any other closely-knit group of people for that matter. The closest we get to the supposed premise of the film is in the second segment where the guy has a dream of getting it off with a couple of workmen who've come to his house to do some repairs, also easily the cheesiest segment of all five.
Occasional uniforms in the film are only the physical expression of the protagonists' social status, their drab lives. They aren't necessarily here to trigger somebody's fantasies.
I agree that the lighting is fairly poor. It is a low budget film. However, at least in part it could have been intentional since daydreaming is supposed to be somewhat hazy and blurred. When it comes to the musical score the director must have been inspired by soft-core skin flicks. However, it makes me think of Twilight Zone more than anything else. Given the lighting, it might also be appropriate! I believe that the film's main problem is that it fails to engage. All the narrators seem to be sad and miserable, albeit somewhat uplifted as a result of their daydreaming but still not interesting enough to actually care. Some of the erotic scenes are more convincing than other but don't expect any actual porn here. The focus isn't on sex, it's on longing.
Director: Brillante Mendoza (as Dante Mendoza)
Writer: Boots Agbayani Pastor
Stars: Arthur Estrella, Rov Roxas, Mark Dionisio
Country: Philippines
Language: Filipino | Tagalog
Release Date: 20 March 2007 (Philippines)
Also Known As: Fantasya: Gay Illusion on Men-in-Uniform
http://www.imdb.com/title/tt0989692/
Format : AVI
Format/Info : Audio Video Interleave
File size : 678 MiB
Duration : 1 h 25 min
Overall bit rate : 1 113 kb/s