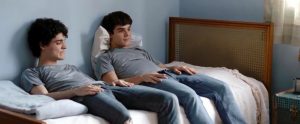 Hoje Eu Quero Voltar Sozinho 2014
1h 36min | Drama, Romance | 10 April 2014 (Brazil)
Storyline:
Leonardo is a blind teenager dealing with an overprotective mother while trying to live a more independent life. To the disappointment of his best friend, Giovana, he plans to go on an exchange program abroad. When Gabriel, a new student in town, arrives at their classroom, new feelings blossom in Leonardo making him question his plans.
User review:
First of all I feel like this is a must see movie, because although It's simple and nice but It's very sweet, relatable and bigger than the sum of its parts. This movie is most of all about being a teenager. Yes the main character is gay and blind, but he's only going through the process every teenager goes through in discovering himself. His unique perspective however is what makes this movie so amazing and moving. I loved this movie because it reminded me of what being a teenager is like, It will provoke in you a roller coaster of feelings and introduce you very realistically into Leo's life. The film feels very real, the cast is amazing and the chemistry between the leads is perfect, but what I liked most of all is the way the fact that the lead is gay and has a disability is handled. It's almost incidental and very subtle in the way it's introduced. Leo is not a poster kid and neither his sexuality nor his blindness define him.
Director: Daniel Ribeiro
Writer: Daniel Ribeiro (script)
Stars: Ghilherme Lobo, Fabio Audi, Tess Amorim
Country: Brazil
Language: Portuguese
Release Date: 7 November 2014 (USA)
Also Known As: The Way He Looks
Filming Locations: Rua Dr. Carlos Norberto de Souza Aranha, São Paulo, Brazil
http://www.imdb.com/title/tt1702014/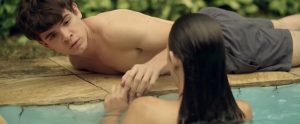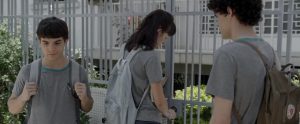 Format : Matroska
Format version : Version 4 / Version 2
File size : 4.23 GiB
Duration : 1 h 36 min
Overall bit rate : 6 298 kb/s
Encoded date : UTC 2017-04-27 06:49:27