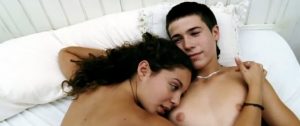 7 virgenes 2005
1h 26min | Crime, Drama | 14 October 2005 (Spain)
6 wins & 10 nominations.
Storyline:
It is summertime in a blue-collar, marginal district of a city in the South of Spain. Tano, a teenager currently serving a sentence in a juvenile reform center, is given a 48-hour leave to attend his brother's wedding. Together with his best friend Richi, Tano plans to enjoy his 48-hour pass to the limit, doing all the things he is normally prohibited from doing. He gets drunk, takes drugs, steals, has sex and hangs out with his buddies. He feels free and exerts that freedom with all the force and audacity of a teenager. By the end of his 48-hour pass, Tano has also witnessed the collapse of all the things he takes for granted in his life: the neighborhood, his family, friends and loved-ones – everything is somehow different for him. More than just two days of freedom, Tano's leave turns out to be a journey into maturity.
User review:
I am a big fan of European Cinema but did not know this young Spanish director (Alberto Rodriguez). I have to say that he is very good and now I can't wait to see his previous film: "The Suit".
"7 Virgins" depicts the life of certain teenagers in Andalucia who live their lives to the limit because they feel they have nothing to lose. The young actors are fantastic. I'm not surprised that Juan Jose Ballesta won the Silver Shell at the San Sebastian Film Festival – well deserved! I remember reading that Angelica Huston, who was president of the jury back then, had said that Juan Jose Ballesta was the closest thing she had seen to being a real movie star.
Director: Alberto Rodríguez
Writers: Rafael Cobos (screenplay), Alberto Rodríguez (screenplay)
Stars: Juan José Ballesta, Iride Fontana, Javier Berger
http://www.imdb.com/title/tt0461894/
Format : AVI
Format/Info : Audio Video Interleave
File size : 699 MiB
Duration : 1h 21mn
Overall bit rate mode : Variable
Overall bit rate : 1 200 Kbps