Phi chai 2014
1h 58min | Drama | 20 February 2014 (Thailand)
Storyline:
The love of two schoolboys, Golf and Bank. Golf is an aggressive boy and Bank is gentle, considerate and sweet-natured.
User review:
I still get tears in my eyes when I watched this movie — TWICE. The way they created the tension, mixing back and forth the past and present, and the twist at the end (sorry I won't spoil the story for you). The two boys were pricelessly gorgeous. I can't believe that anyone could create the concept of two (step) brothers falling in love. It started out like a lot of boy-love Thai movies but as the movie gathered speed they brought out something that was much deeper than puppy love. The family's reaction to the whole thing was so unique. Once again, not the usual way parents react when they find their son(s) are gay. And the supporting actors — the four classmates — are astounding. Usually you don't notice the supporting actors, but these ones played a strong role in this movie's foundation — although the script failed to strengthen their role and some of their story-lines. Quote fine to have such supporting personalities to the two brothers. Thanks for a great movie.
Director: Nitchapoom Chaianun
Stars: Teerapat Lohanan, Pongsatorn Sripinta, Withawat Thaokhamlue
Country: Thailand
Language: Thai
Release Date: 20 February 2014 (Thailand)
Also Known As: My Bromance
http://www.imdb.com/title/tt3522738/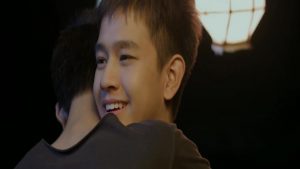 Format : MPEG-4
Format profile : Base Media
Codec ID : isom (isom/iso2/mp41)
File size : 1 022 MiB
Duration : 1h 58mn
Overall bit rate mode : Constant
Overall bit rate : 1 202 Kbps