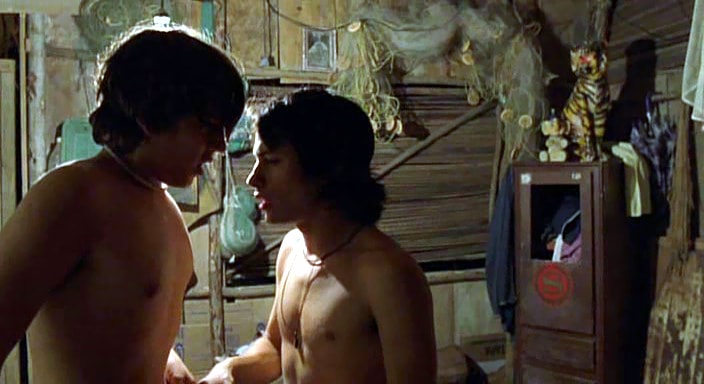 Y tu mama tambien 2001
Y tu mamá también (original title)
16 | 1h 46min | Adventure, Comedy, Drama | 8 June 2001 (Mexico)
Storyline:
In Mexico City, late teen friends Tenoch Iturbide and Julio Zapata are feeling restless as their respective girlfriends are traveling together through Europe before they all begin the next phase of their lives at college. At a lavish family wedding, Tenoch and Julio meet Luisa Cortés, the twenty-something wife of Tenoch's cousin Jano, the two who have just moved to Mexico from Spain. Tenoch and Julio try to impress the beautiful Luisa by telling her that they will be taking a trip to the most beautiful secluded beach in Mexico called la Boca del Cielo (translated to Heaven's Mouth), the trip and the beach which in reality don't exist. When Luisa learns of Jano's latest marital indiscretion straight from the horse's mouth, she takes Tenoch and Julio's offer to go along on this road trip, meaning that Tenoch and Julio have to pull together quickly a road trip to a non-existent beach. They decide to head toward one suggested by their friend Saba, who seems a little confused himself of this beach's location. On the road trip, which ends up not being totally harmonious, the three go on a trip of discovery. For Luisa, she has to figure out what to do with her immediate future based on the news from Jano and a secret she is keeping. And Tenoch and Julio have to figure out what their friendship really means as they grow up.
Motion Picture Rating (MPAA)
Rated R for strong sexual content involving teens, drug use and language
User review:
After watching this movie, I looked at what a few critics had to say about it and I was shocked to see some of them refer to this movie as a "teen sex comedy". Wow, I didn't get that impression at all! Yes, the movie is infused with sex, and the two lead characters are horny teens, and there are quite a few comedic moments, but this is far from a teen sex comedy. It's treatment of the subject matter is real, for one thing, and backdrop of the Mexican countryside (and the director's detached observation's through third-person narration) bring some sobriety to the film. Be warned, though: there is a lot of sex, so not exactly a movie you're going to want to watch with the in-laws.
Director: Alfonso Cuarón
Writers: Alfonso Cuarón, Carlos Cuarón
Stars: Maribel Verdú, Gael García Bernal, Daniel Giménez Cacho
Country: Mexico
Language: Spanish
Release Date: 26 April 2002 (USA)
Also Known As: And Your Mother Too
Filming Locations: Tepelmeme Villa de Morelos, Oaxaca, Mexico
http://www.imdb.com/title/tt0245574/
Format : Matroska
Format version : Version 4 / Version 2
File size : 6.27 GiB
Duration : 1 h 45 min