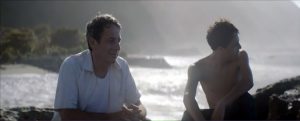 From Afar 2015
Desde allá (original title)
1h 33min | Drama, Romance | 21 January 2016 (Italy)
Storyline:
Armando, a middle-aged owner of a Caracas dental prosthesis business, is estranged from his father, who he observes occasionally from a distance. He finds a young man of the streets who negotiates a fee high enough for the boy to be used to provide Armando's masturbatory object. Although a following encounter ends in a beating for Armando, he continues to make the boy dependent. What is the final result that Armando desires? Is it something more than a conflicted relationship with a hustler?