Mino 1986
5h 44min | Drama, War | TV Mini-Series (1986– )
Storyline:
1914 : Giacomino "Mino " Rasi is the ten -year – old son of a Milan university mathematics professor . His family is friends with the aristocratic Austrian consul Karl Stolz and his much younger wife Freda . In August 1914 the Rasi family travels to Austria to visit the Stolz family . World War I has already broken out, but the spirit is upbeat and both families spend a happy time . That Italy , a member of the Triple Alliance , has remained neutral at the outbreak of the war causes a slight alteration between Karl and Minos father .
User review:
Based on the novel by Salvator Gotta Il piccolo alpino, Mino (name of the protagonist of the novel) is a television movie (Rai) divided into four episodes of about an hour and a half each, for a total of almost six hours. Melodramatic tones and high pathetic-tragic rate in the screenplay signed by Piero Schivazappa and the future award-winning company (Stefano) Rulli – (Sandro) Petraglia; an adequately cared for package supports everything, with the direction of a modest novice professional, Gianfranco Albano, who will soon become a regular in cathodic fiction. The debut Guido Cella is Mino; he will lose track of him, but actually in this film he fared fairly well. Among the other interpreters the most prominent names are those of Ray Lovelock, Mario Adorf, Pierre Cosso, Ottavia Piccolo and, in minor parts, we also find Simona Cavallari, Pino Quartullo and Maurizio Mattioli. Although forced sentimentality to the bitter end may in the long run disturb and within the limits of the expressive possibilities of a television product, Mino is nevertheless a work worthy of note, fired at least with discreet means and sufficient expertise.
Stars: Guido Cella, Ray Lovelock, Mario Adorf
Country: Italy | West Germany | Spain
Language: Italian
Release Date: 28 December 1986 (Italy)
Also Known As: Mino: Il piccolo alpino
http://www.imdb.com/title/tt0186762/
Format : MPEG-4
Format profile : Base Media / Version 2
Codec ID : mp42 (isom/iso2/avc1/mp41)
File size : 651 MiB
Duration : 1 h 15 min
Overall bit rate : 1 209 kb/s
Format : MPEG-4
Format profile : Base Media / Version 2
Codec ID : mp42 (isom/iso2/avc1/mp41)
File size : 748 MiB
Duration : 1 h 8 min
Overall bit rate : 1 523 kb/s
Format : MPEG-4
Format profile : Base Media / Version 2
Codec ID : mp42 (isom/iso2/avc1/mp41)
File size : 420 MiB
Duration : 51 min 46 s
Overall bit rate : 1 134 kb/s
Format : MPEG-4
Format profile : Base Media / Version 2
Codec ID : mp42 (isom/iso2/avc1/mp41)
File size : 331 MiB
Duration : 50 min 59 s
Overall bit rate : 907 kb/s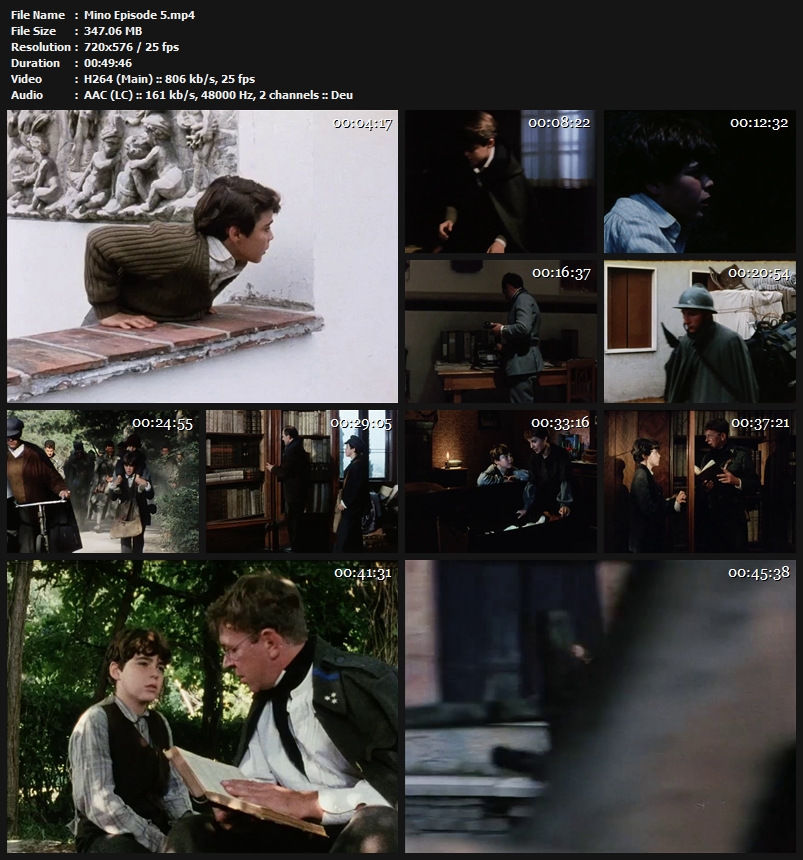 Format : MPEG-4
Format profile : Base Media / Version 2
Codec ID : mp42 (isom/iso2/avc1/mp41)
File size : 347 MiB
Duration : 49 min 46 s
Overall bit rate : 975 kb/s
Format : MPEG-4
Format profile : Base Media / Version 2
Codec ID : mp42 (isom/iso2/avc1/mp41)
File size : 401 MiB
Duration : 48 min 26 s
Overall bit rate : 1 158 kb/s