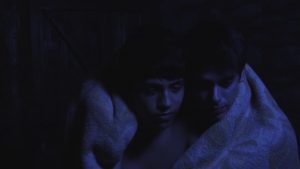 Eloi and Biel 2013
Eloi & Biel (original title)
25min | Short, Adult, Drama | 7 August 2013 (Spain)
Storyline:
They woke up that morning eager to explore. Out of town, in a country house far from the world, they'll feel each other as never before. Drinking wine with no glasses, from kiss to touch, to arouse, to desire – and even so still easy, still calm, still conscious of every centimetre of each others bodies. The secret places of pleasure. The secret pleasures of love.
In his very first short film, Noel Alejandro brakes all stereotypes and presents an explicit sex movie that's actually about love. Through beautifully simple, natural scenes, Eloi & Biel shows the irresistible intimacy of love meeting pleasure. A passionate encounter with emotion, lust, and authentic climaxes.
Review:
Two boys, head over heels in love and walking aimlessly through the countryside, break into a small cabin and make passionate, tender love to each other. When the sex on screen is synonymous with beauty and poetry, the result is very far from conventional pornography…
http://www.imdb.com/title/tt3898620/
Director: Noel Alejandro
Writers: Noel Alejandro, Victor Ayala
Stars: Eloi Guzman, Biel Vila
Country: Spain
Language: Spanish
Release Date: 7 August 2013 (Spain)
Format : MPEG-4
Format profile : Base Media / Version 2
Codec ID : mp42 (mp42/isom/avc1)
File size : 644 MiB
Duration : 23mn 25s
Overall bit rate mode : Variable
Overall bit rate : 3 843 Kbps