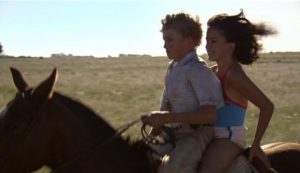 El Ultimo Verano de la Boyita 2009
1h 33min | Drama | 5 November 2009 (Argentina)
Storyline:
Young Jorgelina feels estranged from her boy-crazy older sister, who has entered adolescence and doesn't want to hang around with little kids anymore. Finding refuge in their Boyita camper-van, Jorgelina travels with her father to the countryside, where her lifelong playmate Mario is undergoing some unexpected changes of his own.
User review:
The Last Summer of La Boyita (2009) is the U.S. title of this film from Argentina. The original version of the title is El último verano de la Boyita. It's written and directed by Julia Solomonoff
This is a powerful movie for several reasons. It's a coming of age film, and it's a film about the significance of being considered male vs. female. Assigning gender is of great importance in any culture. It's of enormous significance in a rural Latin American culture.
Guadalupe Alonso plays a young city girl, Jorgelina, whose family has a working ranch to which they go for vacation. Nicolás Treise plays Mario–a kind, gentle young man who works on the ranch and rides horses amazingly well.
The relationship between Jorgelina and Mario forms the basis of the plot, and it would better to urge you to see the film, rather than to have me give more details.
The acting overall is excellent, and the two leads are outstanding. How director Solomonoff obtained such subtle acting from two non-professionals is beyond my grasp. However, she did it.
A third powerful aspect of this movie is its sense of place–the Pampas of Argentina. That virtue of the film will be partially lost on the small screen, unfortunately. We saw the movie in the Dryden Theatre at the outstanding ImageOut, the Rochester Lesbian & Gay Film Festival.
Director: Julia Solomonoff
Writer: Julia Solomonoff
Stars: Guadalupe Alonso, Nicolás Treise, Mirella Pascual
Country: Argentina | Spain | France
Language: Spanish
Release Date: 5 November 2009 (Argentina)
Also Known As: Boyita'nin Son Yazi
Filming Locations: Argentina
http://www.imdb.com/title/tt1404653/?ref_=fn_al_tt_1
Format : AVI
Format/Info : Audio Video Interleave
File size : 1 000 MiB
Duration : 1h 25mn
Overall bit rate : 1 643 Kbps
http://nitroflare.com/view/7D16924576E6619/El_Ultimo_Verano_de_la_Boyita_2009.DVDrip.sub
http://nitroflare.com/view/8E91BE88D3CA48C/El_Ultimo_Verano_de_la_Boyita_2009.DVDrip.idx