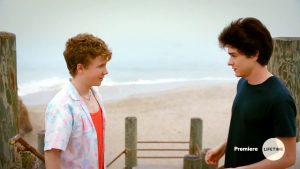 A Tale of Two Coreys 2018
TV-14 | Drama | 6 January 2018 (USA)
Storyline:
Feldman (Elijah Marcano and Scott Bosely) and Haim (Justin Ellings and Casey Leach) skyrocketed to fame after meeting on the set of the blockbuster movie The Lost Boys and quickly became young Hollywood heartthrobs. They collaborated on popular comedies including License to Drive and Dream a Little Dream and basked in being Tinseltown royalty in their early teens. But as their stars rose, their lives began to quickly spin out of control with endless partying and drugs. As their fame and fortune increased, dark secrets haunted them. Young and impressionable, the actors suffered through years of sexual abuse at the hands of industry insiders. With studio offers drying up and their reputations becoming tabloid fodder, Feldman eventually turned his life around by getting sober, getting married and having a son. Haim, however, continued his downward spiral and by the time the two starred in their own reality series, The Two Coreys, not even Feldman was able to save him.
User review:
I am the exact age of the two Coreys and had their pictures hanging all over my room. I was happy to see this Lifetime movie made. I was upset when the Two Corey's reality show displayed Corey Haim as a drug addict that could not get over his issues being a 40 year old adult. I lost my love for him and believe that Corey Feldman did the right thing by not allowing drugs to come back into his life and possibly having a midlife. He is a strong person, a true survivor. This Movie shows fans how Corey Haim got to that place in his life. Mothers can only protect your children so much and it is sad that this was allowed in Hollywood. It is shameful and sickening. I find it hard to believe that there were no witnesses to this behavior. These kids needed protection and you can't tell me that people were not around that could have stopped this. How many people does it take to make a movie? Hundreds. Shame on those people for not noticing or being silent. I hope that Corey F. knows what a brave person he is and hope he knows understands how many kids he will save by speaking out. I would be sick if this had happened to one of my kids, and most likely dead of an overdose if it would have happened to me. Corey Haim would be proud of his friend. Even though Haim's mother is mad, she will never understand and only see it from a mother's view. She should be thankful to Corey F. This movie was a great tribute to Corey Haim and his fans now understand what he went through. It was better to end this way, than on the Reality two Corey's. I cried hard after it was over. To: Corey Feldman. Thank you for clearing up Michael Jackson's name! You have no idea the pain & doubt that you lifted for his fans and I am so sorry for all your loses that you have endured in your life. Thank you!
Director: Steven Huffaker
Writers: Peter Sullivan (screenplay), Hanz Wasserburger (screenplay)
Stars: Elijah Marcano, Justin Ellings, Scott Bosely
Country: USA
Language: English
Release Date: 6 January 2018 (USA)
Also Known As: Lost Boys: A Tale of Two Corey's
Format : Matroska
Format version : Version 4 / Version 2
File size : 2.69 GiB
Duration : 1 h 23 min
Overall bit rate : 4 588 kb/s