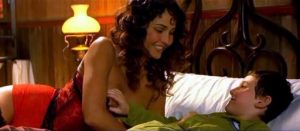 800 Balas 2002
R | 2h 4min | Action, Comedy, Drama | 18 October 2002 (Spain)
Storyline:
Julián Torralba is a former movie stuntman in Almeria, Spain. He and several of his colleagues, who once made a living in American Westerns shot in Spain, now are reduced to doing stunt shows for minuscule audiences on the decaying set built for those old Westerns. Julián wrestles with dark memories of the death of his son, also a stuntman, and with estrangement from his daughter-in-law Laura and her son Carlos. Carlos, a young boy, becomes intrigued with his late father's life and runs away to join Julián and his band of has-beens. There Carlos is initiated into the rambunctious life of these hard-drinking faux cowboys. But when Laura, a powerful executive looking for a new site for a tourist resort, learns that Carlos has joined the hated Julián, she moves to destroy even this remnant of Julián's once-proud career. Julián and the cowboys decide to fight back the only way they know how.
Motion Picture Rating (MPAA)
Rated R for sexual content/nudity and some violence
User review:
I liked 800 Balas despite the sentimental pap; I think it proves that Iglesias has the heart and balls to make it big in Hollywood if he wants to. He has this ability to be so entertaining, accessible and deeply felt at the same time.
There were plenty of funny moments, romanticism (which tends to be simplistic and predictable at times) morality, "good and bad" characters,action, bright colors and suspense to give Steven Soderbergh a run for his money. At the same time, we get a healthy dose of ambiguous darkness, rich irony, black humor and ludicrous moments that tread the thin line between hysteria and nostalgia, morbidity and delight.
There are layers of amorphous innocence and celebration of sensuality in that scene where the kid, lying on the bed with the whore, learns a thing or two about female anatomy aided by a physical demonstration of squeezing her boobs. (For an odd, whimsical and yet strangely dark kid-confronted-with-ripe-overwhelming-sexuality scene, check out THE TIN DRUM where the protagonist buries his face on their house help's "bush".)
That scene where the kid tries to enter the abandoned film set to reach his granddad and somehow evades the notice of EVERYONE AROUND HIM, steeped in chaos, fright, awe and exhilaration as they all were – — that is just tautly controlled and beautifully executed. The colors are so vivid and ethereal and it's great seeing around two hundred of these film extras acting their hearts out for their 3 seconds of fame, to be grazed by the camera's tracking shot.
Like the mythical, legendary granddad aiming for authenticity and grandeur, Iglesias strives for plenty of big moments.
But I guess that in the end, all the "hero" ever really wanted was to be loved; and if we can't admire this movie for its glorification of machismo-addled brotherhood and glaring, obvious contrasts and metaphors, we may just love its shameless and profound respect for history, psychological and blood ties, dreams, life, and humanity.
Director: Álex de la Iglesia (as Alex de la Iglesia)
Writers: Jorge Guerricaechevarría (as Jorge Guerricaechevarria), Álex de la Iglesia (as Alex de la Iglesia)
Stars: Sancho Gracia, Ángel de Andrés López, Carmen Maura
Country: Spain
Language: Spanish | English | Italian
Release Date: 18 October 2002 (Spain)
Also Known As: 800 Bullets
Filming Locations: Almería, Andalucía, Spain
http://www.imdb.com/title/tt0292886/
Format : Matroska
Format version : Version 4 / Version 2
File size : 693 MiB
Duration : 2 h 0 min
Overall bit rate mode : Variable
Overall bit rate : 801 kb/s