Tarzan Triumphs 1943
Passed | 1h 16min | Action, War, Adventure | 19 February 1943 (USA)
Storyline:
Zandra, white princess of a lost civilization, comes to Tarzan for help when Nazis invade the jungle with plans to conquer her people and take their wealth. Tarzan, the isolationist, becomes involved after the Nazis shoot at him and capture Boy: "Now Tarzan make war!"
User review:
Breaking into the second volume of WB's Weismuller Tarzan movies, all of which were made at RKO, and which previously had been produced at MGM. Maureen O'Sullivan finally got her way and was able to leave the series when it left MGM, while Weismuller and Johnny Sheffield, who plays Boy, not to mention Cheetah, stayed on. Tarzan Triumphs isn't a great film (I don't have high expectations for any of the remainder of this series, honestly), but it is historically interesting, and amusing in the way all Tarzan movies are. In the thick of WWII, Nazis invade Tarzan's jungle looking to enslave the lost city of Palandra. The princess of Palandra, Zandra (Frances Gifford), begs Tarzan for help. Tarzan refuses, claiming that the Nazis have done nothing to him. But when they actually do do harm to him, by kidnapping Boy, he vows revenge. Strange this one wasn't made in 1941 instead of 1943. Or perhaps by '43 people were already getting tired of war and this is "stay the course" propaganda. Don't know, but it is fascinating as propaganda. It gets very violent, more violent than the other Tarzan movies as far as I can remember. Well, some black people get wasted in nasty ways in the early Tarzan movies, of course. But Tarzan mercilessly slaughters the Nazis. Cheetah pushes one off a cliff, and then pushes a boulder over after him! Even Boy gets to shoot a guy! And the final living Nazi suffers one of the most entertainingly horrible, Roman-style deaths ever. The film ends on a joke worth of Looney Tunes.
Director: Wilhelm Thiele (as William Thiele)
Writers: Roy Chanslor (screenplay), Carroll Young (screenplay)
Stars: Johnny Weissmuller, Frances Gifford, Johnny Sheffield
Country: USA
Language: English
Release Date: 19 February 1943 (USA)
Also Known As: Edgar Rice Burroughs' Tarzan Triumphs
Filming Locations: Malibu Creek State Park – 1925 Las Virgenes Road, Calabasas, California, USA
http://www.imdb.com/title/tt0036414/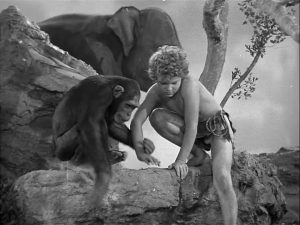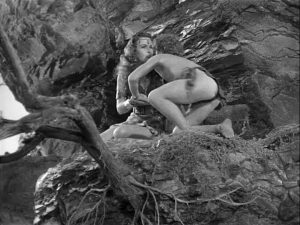 Format : Matroska
Format version : Version 4 / Version 2
File size : 1.09 GiB
Duration : 1 h 13 min
Overall bit rate mode : Variable
Overall bit rate : 2 138 kb/s