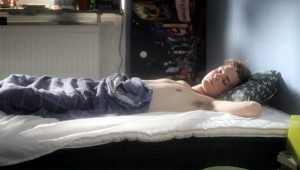 Something must break 2014
Nånting måste gå sönder (original title)
1h 25min | Drama, Romance | 28 March 2014 (Sweden)
Storyline:
A love story between two young men where one is the androgynous Sebastian and one is Andreas who is not gay. They form a unity. It's them against the polished Swedish IKEA society. They dream about escaping boredom and the risk of becoming what everyone else is. And then there is Ellie – the superwoman growing inside of Sebastian who Andreas loves and fears. This is the summer when everything happens and both of them will choose paths that will determinate their lives forever. It's a battle for love where Sebastian finally has to realise that he has to let Ellie loose, find the strength within himself and not let his happiness depend on someone else.
User review:
A Swedish Generation Y movie about transgenderism and loneliness, also known as Something Must Break. Saga Becker is phenomenal in this small gem that's been permeated with melancholy. At the same time the film feels incredibly liberating because it talks about gender and the freedom to be who you are without restrictive cisgenderism and heteronormativity. Maybe that's just it: this liberty, which is not at all won at this moment in history, is still something bleak and isolated. Because of that there's a certain kind of sadness surrounding the personal struggle fought by trans people. Sebastian / Ellie is such a person who identifies her/himself not as gay or straight, not as male or female, not as transsexual, but as something that isn't called by name in the movie, something "queer" you might say. While his/her search for an own identity manifests itself, Something Must Break manages to bring up some (other) big issues of our time (in the Western World): solitude, unemployment, depression, the search for meaning in this life, etc. A beautiful yet heavy-hearted movie with a nice soundtrack by Tami Tamaki and Olof Dreijer (The Knife). Recommended!
Director: Ester Martin Bergsmark
Writers: Eli Levén (screenplay), Ester Martin Bergsmark (screenplay)
Stars: Saga Becker, Iggy Malmborg, Shima Niavarani
http://www.imdb.com/title/tt3452948/
Format : MPEG-4
Format profile : Base Media / Version 2
Codec ID : mp42 (mp42/isom/avc1)
File size : 1.33 GiB
Duration : 1 h 21 min
Overall bit rate mode : Variable
Overall bit rate : 2 349 kb/s