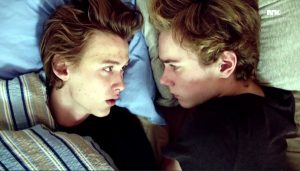 Skam – Season 3 with english subtitle
30min | Drama | TV Series (2015– )
Storyline:
The story of young teenagers and pupils on Hartvig Nissens upper secondary school in Oslo, and their troubles, scandals and everyday life. Each season is told from a different person's point of view.
User review:
I finished all 3 seasons in two days and I felt so connected to the show, I almost sound crazy but it's so addicting and i could not get enough. I re-watched all the seasons like 4 times since and now I don't even know what to do while I'm waiting for season four and my heart feels so empty. My family gets annoyed with me talking about it all of the time. I feel so close with the characters even though they're half way across the world, it really is crazy how addicting the show is and I 110% recommend everyone to watch it. But, I'm warning you because it can take over your whole life, which isn't a bad thing because the show is just that good.
User review:
Creator: Julie Andem
Stars: Josefine Frida Pettersen, Iman Meskini, Lisa Teige
Episode list:
Lykke til, Isak
Isak has to hide the drugs belonging to him, Jonas, Mahdi and Magnus at Eva's party when the police arrive, and he struggles to get it back. The first year girl Emma, shows interest in Isak. Isak joins the school revue group.
Du er over 18, sant?
In class Isak tries to get his drugs back from Sana. Isak is crushing on Even, and tries to find out more about him. Emma still interested in Isak invites Isak and the boys to a party at hers
Nå bånder dere i overkant mye
After ditching the party and lying, Isak have to make amends with his friends, and Emma. Isak is struggling to come to terms with homosexuality and his interest in Even. Vilde gets Isak to hold a party for the school revue at his place.
Keen på å bade
Noora returns from London without William, and Isak is wondering how living conditions in the flat will be with four people. Even talks Isak into having a Halloween preparty, with him, his girlfriend and Emma
Samme tid et helt annet sted
Isak and Even spend time together, and talk about their relationship. Isak have to answer to his friends for ditching his Magnus' birthday that weekend. Isak and Eskild have a talk about homosexuality.
Escobar Season
Emma is still angry at Isak, and Isak is not talking to Even either. Jonas reaches out and offers to talk with Isak about his issues. Because of sleep problem Isak decides to go to the eccentric school "doctor".
Er du homo?
Even is sending Isak some confusing signals, and Isak asks Eskild for advice. Rumors that Isak might be gay is spreading through school. After coming out to Jonas, he encourages Isak to tell Mahdi and Magnus as well.
Mannen i mitt liv
Isak's dad wants Isak to answer him about going to a church concert with his mom and him. Sana reluctantly tries to tell Isak she was wrong in previous discussion. Even surprise Isak by booking a hotel suite for them.
Det går over
After Even had a manic episode, Isak does some research on bipolar disorder. Issak struggles with getting in touch with Even. Magnus offers some good advice. Isak goes to a church concert with his parents.
Minutt for minutt
Isak has to take care of Even while he is in a period of depression and get help from Eskild and the other flatmates. Isak hosts a Christmas party for the revue group after Vilde asks him.