Shivers 1981
Dreszcze (original title)
1h 46min | Drama, History | 23 November 1981 (Poland)
Storyline:
Set in the early 1950's, during the Stalin's Personality Cult. The story opens in a provincial town. Tomek's father, a former member of the Home Army is arrested so the mother is left with the task of raising two kids alone. The neighbor upstairs commits suicide when her husband is also arrested and transported to the prison camp. It's winter so the kids keep their hands warm at school by hand-beating themselves. The teachers at school are mean, narrow minded idealists, When they ask the kids who goes to church on Sundays, the whole class stands up to defeat the purpose of the propaganda lesson. Tomek is sent to the training school in the summer. There he absorbs most of the ideology pumped into his head, and when his father is released from prison he finds another boy he has left.
User review:
The muddled message drama apparently offended Polish authorities upon it's first appearance and was banned. It's a companion piece to the better THE BIG RACE or the Hungarian films ANGI VERA and THE WHISTLING COBLESTONE. I'd totally forgotten it till SHIVERS surfaced again in a sharp though yellow copy that looks like the improved, post-Glasnost Orwo color.
The plot has a boy whose father has been arrested for unspecified political offenses, allowed to attend a youth camp because a young woman Party Official believes in his character. There he finds himself acceptable to the dissident element who listen to Radio Free Europe but is able to distance himself from them, justifying the officer's faith in him. This doesn't work out as intended.
The one successful plot element in all this confusion is the depiction of the woman who is shown as understanding, serious and totally misguided. This is the kind of shading rare in argument pieces from any source.
Director: Wojciech Marczewski
Writer: Wojciech Marczewski
Stars: Tomasz Hudziec, Teresa Marczewska, Marek Kondrat
Country: Poland
Language: Polish
Release Date: 23 November 1981 (Poland)
Also Known As: Hideglelés
Filming Locations: Bozków, Dolnoslaskie, Poland
http://www.imdb.com/title/tt0082294/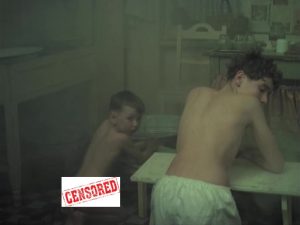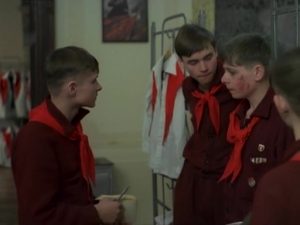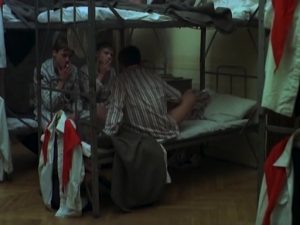 Format : Matroska
Format version : Version 4 / Version 2
File size : 791 MiB
Duration : 1 h 42 min
Overall bit rate : 1 080 kb/s