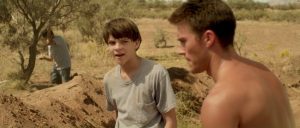 Mercury Plains 2016
R | 1h 42min | Action, Adventure, Drama | 5 January 2016 (USA)
Storyline:
A troubled young man runs away to Mexico, where he is recruited to join a paramilitary group of teens fighting the drug cartels. Isolated in the desert, he proves himself by becoming The Captain's top soldier, but questions the group's true purpose. As the Mexican police close in, he realizes that his only way out is to escape back to America, but first he must outwit The Captain.
User review:
Eastwood tries too hard. Movie is boring and dry. Giving it 2 stars for effort. Crying roles are too exaggerated and don't appear sincere. He could of taken some acting advice from his father to appear more natural. Music was good but very monotone for a movie of this caliber. Eastwood needs to find his own style and not try to be too much like his father. Even the style of movie was not unique but rather imitating the type of roles his father takes on. It's hard not to compare the two…this kid needs to find his own way , his own style, his own story if he wants to be a successful actor. Seems like he is using his own name to get famous. Why not be creative and call himself something different so he can stand on his own.
Director: Charles Burmeister
Writer: Charles Burmeister
Stars: Scott Eastwood, Angela Sarafyan, Nick Chinlund
http://www.imdb.com/title/tt1753786/
Format : Matroska
Format version : Version 4 / Version 2
File size : 4.35 GiB
Duration : 1 h 42 min
Overall bit rate : 6 099 kb/s