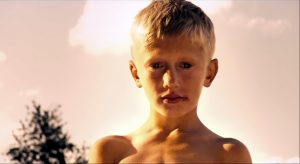 Franz and Polina 2006
2h 4min | Drama, Romance, War | 25 June 2006 (Russia)
Storyline:
1943 in occupied Byelorussia. It tells the story of Franz, an SS soldier who deserts, and Polina, a Byelorussian woman whose village is massacred.
User review:
Bjelorussia 1943, A German SS unit is billeted in a small village. Frantz stays together with an older Sergeant in the home of Paulina's mother. Besides the Paulina, the mother and the 2 German soldiers there is nobody else living in the building. Paulina's father and brother are with the partisans in the surrounding forests. Paulina's mother takes good care of all inhabitants like mothers do with love and compassion. Good that she can't understand the older sergeant's prejudices. Hitlers propanganda maschine instructed the German soldiers to treat Russian peasants like untermenschen (subhumans). Not all German soldiers bought those lies, and Frantz is one of them. The sergeant clearly displays some insecurities regarding this policy. Those insults are merely lost, because there is a language barrier. Frantz seems to ignore his sergeants opinions, and starts to flirt with Paulina. The sergeant is not a brute or brawler, more a prisoner of the time. He has a good site, shown when he fixes mechanical devices in the house, like an old defective watch. Everything seems very peaceful at first, until the order arrives, that the village has to fall victim to the "burnt earth" strategy of the retreating Wehrmacht. What happens now, would be a spoiler to tell. I just covered the first 10 minutes of the movie above, what's gonna unfold is a heartwrenching , very suspenseful, and actionpacked development. Americans would probably describe it as COME AND SEE (idi i smotry) meets ROMEO & JULIET. That's all I want to give away about this incredible story. The photography is very beautiful, viewers will be surprised, how beautiful the location is, where the movie was being made. As a Canadian, almost all of the actors where unknown to me, but they did a superb job. Specially the mother impressed me the most. I do not think that Hollywood could have pulled out a story like this with this much decency and true to life performances. No formula's , not the run of the mill yarn, just a very good story. I was captivated and glued to this film. Russia new wave cinema is the future !
Director: Mikhail Segal
Writers: Ales Adamovich, Mikhail Segal (dialogue)
Stars: Adrian Topol, Svetlana Ivanova, Tamara Mironova
http://www.imdb.com/title/tt0899242/
Format : Matroska
Format version : Version 4 / Version 2
File size : 2.14 GiB
Duration : 1 h 58 min
Overall bit rate : 2 585 kb/s