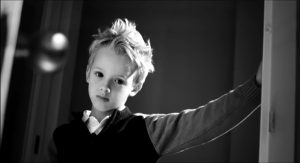 Escape from Tomorrow 2013
1h 30min | Drama, Fantasy, Horror | 19 July 2014 (Japan)
Storyline:
In this black comedy, Jim is an unsatisfied middle aged man on vacation with his family at Disney World. While his family frolics through the park and is enthralled with the sights and sounds of Disney, Jim finds himself inexplicably obsessed with two French teenage girls. The park environment soon turns to something more sinister as Jim uncovers its secrets. Jim must protect his adventurous kids, placate his suspicious wife and defend himself against the happiest place on Earth.
User review:
The infamous film that was shot almost entirely at Disneyworld. The thought was, when it opened at Sundance in January, that Disney would sue it out of existence, that maybe you'd only ever be able to see it if it popped up online at some point. In the end, though, Disney just decided to ignore it (some have pointed out that the company's infamous litigiousness is more a thing of the past). So the next question has to be, does this actually work as a film, or is it just a curio? In my opinion, it very much is a curio, but not just because of the circumstances of its production. It is, in fact, an extremely weird film. It's far from perfect, but, really, it's so weirdly entertaining that I don't really care. The one thing I really love about it is the black and white cinematography – it's really gorgeous and eerie. The film has a hypnotic quality. It's well worth checking out.
Director: Randy Moore
Writer: Randy Moore
Stars: Roy Abramsohn, Elena Schuber, Katelynn Rodriguez
Country: USA
Language: English | French
Release Date: 19 July 2014 (Japan)
Also Known As: Побег из завтра
Filming Locations: Los Angeles, California, USA
http://www.imdb.com/title/tt2187884/
Format : MPEG-4
Format profile : Base Media
Codec ID : isom (isom/iso2/avc1/mp41)
File size : 1.09 GiB
Duration : 1 h 30 min
Overall bit rate : 1 731 kb/s