The Daytime Doorman 2016
O Porteiro do Dia (original title)
25min | Short, Comedy, Drama | November 2016 (Brazil)
Storyline:
After exchanging glances between "good mornings" and "good afternoons", Marcelo realizes it's time to try to go further with Márcio, the doorman in his building. Two worlds will collide through these men's bodies.
User review:
Earthy and relaxed, this short film kind of has two disparate halves. At the centre is sound recordist Marcelo (Ferraz), who has a crush on his doorman Marcio (Silva), a married father of two. But they go out for a day bicycling together, and when Marcelo gets overheated, Marcio gives in. But Marcelo's gay friend Hugo (Leal) is annoyed about this. What follows touches on prejudices that exist within the LGBT community, as a raucous party in the building draws anger from some residents. Leal's filmmaking is boldly unapologetic, never shying away from sex or nudity and making up for a low budget with sharply defined characters and situations. So the central idea of a straight man releasing his inner desires is provocative without being too confrontational. Even so, the film's structure is rather meandering and random, leading to a low-key conclusion that feels gently optimistic.
Director: Fábio Leal
Writer: Fábio Leal
Stars: Carlos Eduardo Ferraz, Edilson Silva, Fábio Leal
Country: Brazil
Language: Portuguese
Release Date: November 2016 (Brazil)
Also Known As: The Daytime Doorman
http://www.imdb.com/title/tt6236504/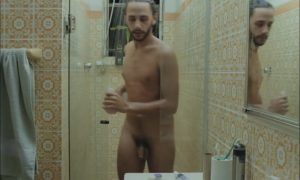 Format : MPEG-4
Format profile : Base Media / Version 2
Codec ID : mp42 (isom/iso2/avc1/mp41)
File size : 157 MiB
Duration : 25 min 38 s
Overall bit rate mode : Variable
Overall bit rate : 859 kb/s