Dark Was the Night 2014
1h 30min | Drama, Horror, Thriller | 24 July 2015 (USA)
Storyline:
Isolated and threatened, a mysterious force hidden within the trees outside the small town of Maiden Woods, strikes fear in the townspeople as Sheriff Paul Shields attempts to overcome the demons of his past while protecting those that he loves.
User review:
I went into this with high hopes what with the great cast of Kevin Durand, Lukas Haas and an on fire Nick Damici (loved his performances in Stakeland and Late Phases), a director coming off of a pretty decent first effort with Enter Nowhere and an interesting and mysterious premise shot in classic isolationist style a la The Thing, 30 Days of Night or Pumpkinhead. Even watching Dark was the Night its tough to really pinpoint what failed this film the most, because the acting here is on point, character development is great and nothing comes off as cheesy, everything is very convincing. What did it in, in my opinion, was its massively slow start with little to nothing going on…which can be forgivable if tension is being built or there is an engrossing atmosphere to get caught up in (think Alien) but there is literally nothing happening here for well over an hour, everything is uninteresting and when things finally start to get rolling the movie ends, the payoff simply falls well short for the investment the movie asks of the viewer. To top it all off though when the monster is finally revealed its CGI, come on, its on screen for maybe 30 seconds and you couldn't spring for some decent practical effects?
Director: Jack Heller
Writer: Tyler Hisel
Stars: Kevin Durand, Lukas Haas, Bianca Kajlich
Country: USA
Language: English
Release Date: 24 July 2015 (USA)
Also Known As: Caccia al mostro
Filming Locations: Southampton, New York, USA
http://www.imdb.com/title/tt2251281/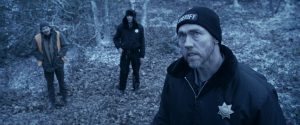 Format : Matroska
Format version : Version 4 / Version 2
File size : 6.56 GiB
Duration : 1 h 38 min
Overall bit rate : 9 526 kb/s