Clapham Junction 2007
2h | Drama, Romance | TV Movie 22 July 2007
Storyline:
Robin, a gay writer, has his script declined by a television executive whilst school-boy Theo stalks his neighbour Tim, on whom he spies through the window. Terry, who lives with his grandmother, prepares for a night out whilst professionals Gavin and Will celebrate a civil partnership though faithless Will flirts with young waiter Alfie, giving him his ring. Terry picks a man up at a gay club, inexplicably giving him a savage beating-up. Robin goes cruising in a toilet meeting the closeted Julian, before going on to a dinner party with married friends. To Robin's surprise Julian also turns up, having hidden in a cubicle whilst Alfie was pursued and attacked by gay bashers. Terry finds the severely injured waiter but rather than help him steals Will's ring. The dinner party guests, who also number Theo's parents, see the ambulance draw up for Alfie but Julian refuses to tell the police what he saw, to Robin's dismay. Terry himself is also beaten up and treated in hospital by Gavin, who is displeased to find he has Will's ring though Will claims he had sent it to the jeweller. Theo's parents leave the dinner party early and although they do not catch him having sex with Tim Theo's mother Natasha is suspicious and warns Tim off. Consequently Tim refuses to acknowledge any more of the boy's advances. Alfie dies in hospital as another young boy Danny, a talented violinist, has his instrument smashed by homophobic tormentors.
User review:
While I do agree with many of the comments and criticisms of fellow reviewers on this site that there is much cliché,a narrow, outdated and perplexing depiction of the gay experience today, and some offensiveness.I have to say that the interaction of the 14 year old boy with an older man is one of the most powerful, intense, moving and poetic moments I have seen on film in a very long time. Those scenes are well worth the price of admission. Even though their interaction is between two gay characters and two characters far apart in age it transcends those particulars to capture emotional human truths and longings relevant and recognizable to everyone. I was so moved by those scenes that it took my breath away and left me stunned and fulfilled . I do not say this lightly, see for yourself. Rarely do we get to glimpse a depiction of the inner workings of human desire, longing,loss, repression, redemption, salvation , inner struggle, despair, loneliness, joy and fear crammed into one spectacular moment. The two actors were incredibly focused, present and controlled. It was like watching a very intense dance number, with the pacing and movement timed just right to impart the perfect punch. Do not miss this. This is art.
Director: Adrian Shergold
Writer: Kevin Elyot
Stars: Tom Beard, James Bellamy, Robin Berr
Country: UK
Language: English
Release Date: 22 July 2007 (UK)
Also Known As: Место встречи
Filming Locations: Golders Hill Park, Hampstead Heath, Hampstead, London, England, UK
http://www.imdb.com/title/tt1043903/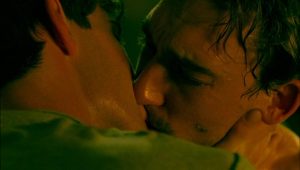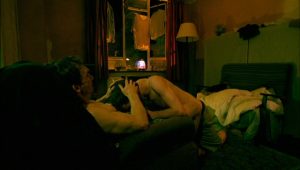 Format : Matroska
Format version : Version 2
File size : 1.47 GiB
Duration : 1 h 38 min
Overall bit rate : 2 126 kb/s