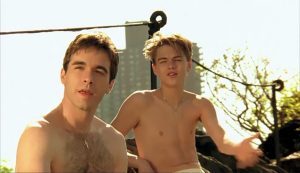 The Basketball Diaries 1995
R | 1h 42min | Biography, Crime, Drama | 21 April 1995 (USA)
Storyline:
Film adaptation of street tough Jim Carroll's epistle about his kaleidoscopic free fall into the harrowing world of drug addiction. As a member of a seemingly unbeatable high school basketball squad, Jim's life centers around the basketball court and the court becomes a metaphor for the world in his mind. A best friend who is dying of leukemia, a coach ("Swifty") who takes unacceptable liberties with the boys on his team, teenage sexual angst, and an unhealthy appetite for heroin — all of these begin to encroach on young Jim's dream of becoming a basketball star. Soon, the dark streets of New York become a refuge from his mother's mounting concern for her son. He can't go home and his only escape from the reality of the streets is heroin for which he steals, robs and prostitutes himself. Only with the help of Reggie, an older neighborhood friend with whom Jim "picked up a game" now and then, is he able to begin the long journey back to sanity.
User review:
An uncompromising script and a solid performance from Leonardo Di Caprio help make THE BASKETBALL DIARIES a powerful and memorable film experience. Leo plays Jim Carroll, a high school student with a love of basketball and a flare for writing whose life goes right down the toilet when he becomes a heroine addict. Yes, perhaps Leo gets hooked a little too quickly but everything that happens to him after he gets hooked is totally real. Along with CLEAN AND SOBER, this movie so clearly and honestly demonstrates where drug addiction can take you…how nothing else becomes important but how and where that next high is coming from. There is one harrowing scene after another here. We see Jim returning to his mother (Lorraine Bracco) after being kicked out of the house and we see Jim turn from begging child to threatening thug in a matter of seconds, a scene brilliantly performed by DiCaprio. We see Jim and his friends beat up an old lady for her purse and we even see Jim prostitute himself with a man in order to get money. It's a frightening and realistic spiral downward that Jim takes and he does make it back, but it is important to remember when watching this film that a lot don't. DiCaprio gets solid support from future star Mark Wahlberg, Bruno Kirby, Jr., Juliette Lewis, and Michael Imperioli. A harrowing film experience that will not be forgotten once the credits roll.
Director: Scott Kalvert
Writers: Jim Carroll (novel), Bryan Goluboff (screenplay)
Stars: Leonardo DiCaprio, Lorraine Bracco, Marilyn Sokol
http://www.imdb.com/title/tt0112461/
Format : MPEG-4
Format profile : Base Media
Codec ID : isom (isom/iso2/avc1/mp41)
File size : 1.23 GiB
Duration : 1 h 41 min
Overall bit rate : 1 731 kb/s